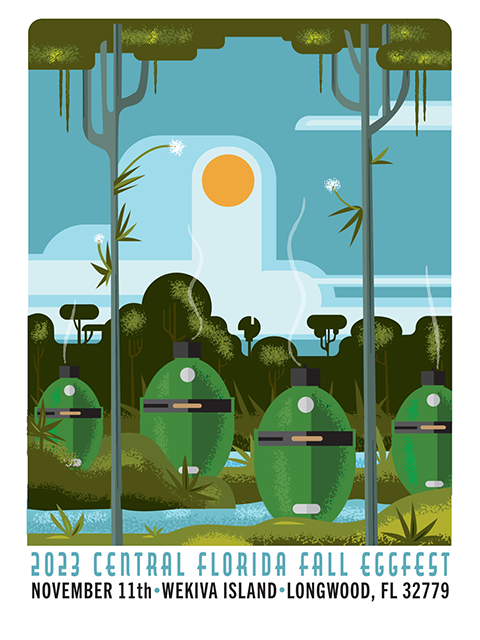 Central Florida Fall EggFest
November 11, 2023
9am-5pm Rain or Shine
Wekiva Island
The Central Florida Fall EggFest  is an annual event dedicated to the Big Green Egg grill and Egg enthusiasts known as Eggheads. Whether you own an Egg or just want to sample some unique new tastes from slow-cooked BBQ to baked goods, then the EggFest is for you!
The event is hosted at the beautiful Wekiva Island ("Egg Central") rain or shine!
Proceeds from the festival benefit Keep Seminole Beautiful to support their continuous efforts to keep our community clean.
What is an EggFest?
An EggFest is a venue for Big Green Egg enthusiasts to showcase their talents on the Big Green Egg grill. It is also an opportunity for those who have been contemplating a Big Green Egg to sample the foods and talk to other egg enthusiasts. You never know, you may begin to turn into an Egghead yourself!
You will meet experienced Egg cooks showcasing their skills and talents cooking a wide variety of delicious food. It's the perfect place to learn all the different cooking possibilities and techniques that can be used. You will have the opportunity to taste samples from fellow Eggheads, learn about Big Green Egg products and accessories, and view demonstrations to learn some new skills.
Taster tickets are available online for $30 and will be $40 at the gate.
Calling All Cooks…
Are you interested in taking part in the Central Florida Fall Eggfest by being a cook? As an EggChef you will get to share in the excitement of the Eggheads and will receive a special gift bag full of goodies to help you get your inner chef on! Spots are limited so Register early to be part of this great event. Registration for cooks is $30.
Large-sized Big Green Egg/Nest Demo Eggs and a bag of charcoal will be provided to all of the cooks. Cooks are responsible for providing all other necessities including primary ingredients, spices, and utensils. We will assist in supplying tasting spoons, cups, paper towels and will even have some ingredients in addition to the ones cooks bring to cook on the eggs.
As an EggFest Cook, you can prepare anything you like to serve. We'll have the lighting of the Eggs at 8:00 AM on Saturday and you may prepare proteins, sauces, etc., ahead of time. EggChefs should be prepared to provide a minimum of 100-150 bite sized samples to our tasters.
Long Cooks: Cooks who want to cook briskets, pork shoulders or other long cooks that can't be accomplished between the lighting of the Eggs and 11:00 AM may choose to start their cooks on their Eggs at home, as long as they adhere to the following guidelines:
Items must be finished on a Big Green Egg at Central Florida Fall EggFest.
Cooks must follow food safety guidelines and ensure that the protein temperature has not been between 41-135 degrees for more than four hours. The internal temperature must reach between 145 degrees whole or 155 degrees if injected. This information will be printed on the back of your access credential.
You are providing bite sized samples — you are not expected to provide a meal. Of course, more is fine and you are encouraged to show off your green egg cooking skills!